Hannah is a vocal musician who studied Jazz at UNC-Greeley and just recently graduated (congratulations!). She sings in a variety of local groups in Northern Colorado. We're glad that she is singing with Archie Funker.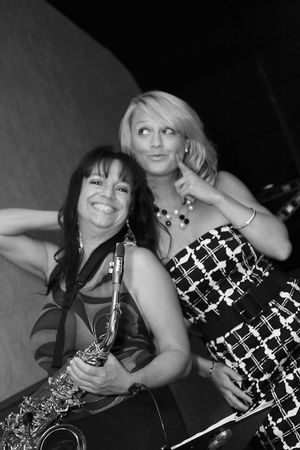 Hello! I'm a New Hampshire native who transplanted to Colorado in the 80s. I have a degree in music and studied at several schools including Berklee College of Music in Boston. I teach private saxophone, clarinet and flute lessons and play in several groups. Archie Funker is my favorite, of course! Come on up and say hello at the next show!
Doug Carmichael (Bari Sax)
Doug Carmichael is a music teacher with the St. Vrain Valley Schools and an active saxophonist throughout the great Denver area.  He grew up in the Longmont area were he attended Erie High School and the University of Colorado at Boulder. Doug has his bachelors and masters degrees from CU in music education and saxophone performance. He has taught in the Denver Public Schools, Douglas County Schools, Cherry Creek School and the St Vrain Valley Schools. He has played with a variety of groups: the Longmont Symphony, the Lee Thomas Band, Mojomama, the Dale Ness Quartet, the Eric Dorn Group, the Jean Poole trio, See Spot Groove, 3ology, the Matt Pack, DKO, and 3rd Degree Burn, just to name a few. His work with 3olgoy has resulted in three Cds which have received airplay and accolades locally, nationally and internationally. Through 3ology he is on the Creative Music Works and Tapestry label. Doug continues to be a guest artist and clinician for various private, CHSAA, and CBA sponsored events.
Matthew Floyd (Tenor Sax)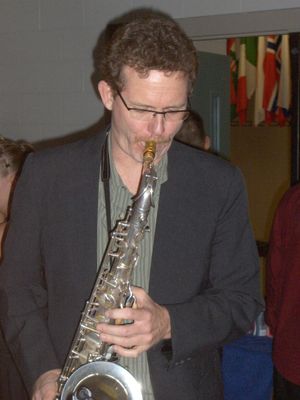 Defunct qualifications: My feet are firmly planted by the gravity of the situation. Blue is the fundamental color of my universe and the source of my inspiration. I am merely a passing tone in search of a soul. Om ergo Sum.
Talk about some sweet solos! And killer licks on the trumpet!
We're happy to have David with the band.